Star Fasteners Threaded Insert / Blind Rivet Nut Range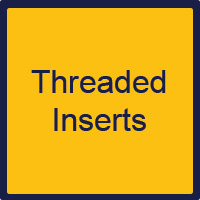 Star Fasteners Threaded Insert / Nutsert Catalogue

Star Fasteners product range includes a wide selection of quality Threaded Inserts available for next day delivery, we can help guide you to find a fastener that suits your application.


Click here to download a copy of Star Fasteners Threaded Insert Catalogue



Types of Threaded Insert
There are a variety of different types of threaded inserts, each with a different design for a specific application. Star Fasteners stock a wide range of threaded inserts including Knurled, Half-Hex, Slotted, Frame Nuts and Riv-studs in open and closed ends. They are available in a variety head styles and also materials such as steel and aluminium - other materials are also in a limited number of styles.
What are Threaded Inserts?
A threaded insert is a sleeve containing a thread, this enables the project to be disassembled and reassembled again. They are installed from one side and have a counter-threaded interior to accept a bolt or threaded fastener. They are incredibly versatile and are quick and easy to install and are a strong alternative to weld-nuts and tapped holes. Threaded Inserts are predominantly used in sheet metal however, they are also suitable for composites, plastics and laminate materials as they increase the strength and resilience to these less durable materials.
What type of industries are Threaded Inserts used in?
Inserts are used in a wide variety of industries and are often found in manufacturing, construction assembly and repairs. These are just a few examples industries that they can be found in: -
Automotive, bodywork (commercial vehicle, military vehicles etc.), boat building cabinets, construction, electrical appliances, furniture, HVAC (heating, ventilation and air conditioning) ladder manufacturing, medical, recreational and fitness equipment, bicycles green energy, such as solar and the general metal industry.
What kinds of material are Threaded Inserts available in?
Depending on the fastener type, they are available in a variety of materials such as aluminium, steel, stainless steel (A2 & A4), and rubber with a brass thread.
How to choose Threaded Inserts?
The blind fastener that you choose depends upon the environment in which it is being used, the type and thickness of material and the application. Depending on the product, the diameter of the threaded insert can range from M3 to M12. Head types include flat, extra-large, countersunk and reduced flange.

Do Star Fasteners sell tools for installing Threaded Inserts?
Star Fasteners offer a wide range of quality hand, battery and air tools that we know can stand up to the rigours of a busy workshop environment. We recognise that choosing a threaded insert tool can be fairly complicated; our service includes demonstrating the latest models and advising on tool options best suited to both the application and the environment.
Can Threaded Inserts tools be repaired?
Every production environment, workshop and tool benefits from a regular service maintenance program and Star Fasteners can help out with that too. Our in-house tool maintenance and repair workshop ensures that there's minimal down time and a quick turnaround for every job we do. We also have a large selection of short or long-term hire tools.